In 2006, professors from nine University of California campuses came together to create the UC-CUBA Multi-Campus Academic Initiative. Headquartered at UC Irvine, UC-Cuba has grown since then into a diverse and thriving international network of university faculty, graduate students, and independent scholars, united by their shared passion for all things Cuban.
Latest News & Events
Ada Ferrer's CUBA: An American History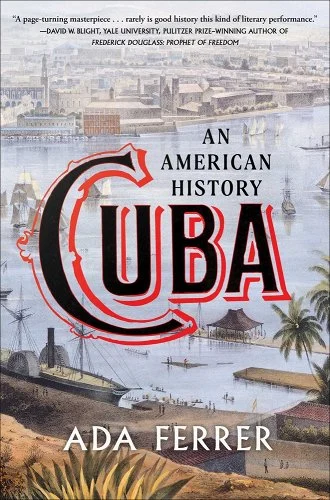 The just released CUBA: An American History, is medicine codified as history.
It is a prodigious distillation of the best available scholarship on Cuba's history and U.S.-Cuba historical relations. Reading it you won't have to read several dozens books and hundreds of articles and documents in English and Spanish.
CUBA: An American History is everything the book blurbs and early reviews say it is. A masterpiece, a literary performance, an epic, sweeping , riveting, nuanced, fluid, informative, remarkable work of history.
Ada Ferrer, a Professor of History at NYU, is a distinguished historian of Cuba who has previously written two prized-winning monographs: Insurgent Cuba: Race, Nation, and Revolution, 1868-98,University of North Carolina Press, 1999, and Freedom's Mirror: Cuba and Haiti in the Age of Revolution, Cambridge University Press, 2014.
Her most recent book is a necessary, obligatory reference for Cuba scholars.
Sixty Years After the Bay of "Pigs" - Playa Girón Invasion

Sixty Years After the Bay of "Pigs" - Playa Girón Invasion

Entrance to Museo Playa Girón

A view down the hall of the Museo of Playa Giróm

The Bay of Pigs Monument is a monument in honor of the fallen of the Bay of Pigs Invasion in Little Havana, Miami, Florida.

On April 17, 1961, a group of Cuba exiles who opposed the government of Fidel Castro launched a landing operation, financed and directed by the U.S. government, near the Bay of Pigs on the southwestern coast of Cuba. The actual landing took place at Playa Girón in the vicinity of the Zapata swamps. The event is remembered in Cuba as the Invasión por Playa Girón.

The failed attempt attempt which lasted until April 20 has been repeatedly analyzed in the U.S. by academics, journalists, military experts, diplomats, and political figures. It has been variously called a "perfect failure," a "brilliant disaster," and so on. It served to increase the prestige of the Cuban government internationally. The debacle accelerated a closer relationship between Cuba and the Soviet Union and paved the way for the Cuban missile crisis of October 1962. During the October crisis the U.S. and the Soviet Union stood at the brink of nuclear war for 13 days, the most dangerous period during the Cold War.

The name Bay of Pigs, Bahía de Cochinos, was a reference not to actual pigs, but to a common colorful tropical fish called "cochino" very abundant in the area, also known as "pejepuerco" because their mouths resemble a pig's snout. Known in English as triggerfish.

Below a few links to articles and a video about the Bay of Pigs-Playa Girón invasion.

Cuban War of Independence | February 24, 1895

The Cuban War of Independence began in February 24, 1895, a national holiday in Cuba. The outstanding campaign of the war was the Invasion from East-West of the entire island led by the brilliant military leader General Antonio Maceo. An operation that covered 1000 miles in 96 days defeating many times technically and numerically superior forces of the Spaniards, the Invasion turned the entire Cuban countryside into pro-independence rebel territory.The troops under Maceo's command called him the "Bronze Titan" because of his exceptional physical strength and resistance to bullet or blade injuries. Maceo was killed in combat on December 7, 1896.

Today Jan 28th the birth of José Martí is celebrated in Cuba.


Photo by David Shankbone | Statue of José Martí in Central Park, New York City

Independence activist, he was an eminent orator, poet, novelist, and literary critic. In New York, where he founded the Cuban Revolutionary Party, he wrote frequently for major newspapers in Latin America about life and events in the United States.

Martí was regarded by Guillermo Cabrera Infante as "one of the greatest writers in the Spanish language" and "a true original". Octavio Paz attributed to Martí the first 'modernista' poem that broke with poetic codes traditional in Spain. Lezama Lima and Cabrera Infante both considered Martí's "Diario de campaña" the finest poem written by a Cuban poet.


Niagara Falls illuminated with the colors of the Cuban flag

On Jan 28, birth date of José Martí, Cuba's national poet and independence leader, Niagara Falls was illuminated with the colors of the Cuban flag: white, blue, and red.

Cuba has a special relationship with Niagara Falls since, in exile in the United States, the poet José María Heredia dedicated a poem exalted by the beauty of the natural break and longing for his homeland in the 1820s.

A bronze plaque with the image of Heredia and the verses of his "Ode to Niagara" remains located on a stone wall to one side of the waterfall, as a souvenir of his visit to the place.

108 Cuban Voices


Cuba has a centuries-old choral music tradition and its choirs are highly regarded around the world. An international choral festival is held every November in Santiago de Cuba.

Recently choirs from several Cuban cities organized a virtual choral event bringing together 108 singers. The occasion was the celebration of 60 years of the foundation of the Orfeón Santiago by the celebrated arranger Electo Silva, and to honor Digna Guerra, for 45 years the Director of the Coro Nacional de Cuba. 108 Cuban voices interpret Silva's arrangement of "Juramento," a signature song by Miguel Matamoros, a Santiago musician considered a foundational figure of the son cubano. Link at the bottom.

In the time of Covid, choir members around the world can only rehearse and perform virtually. Each individual must control for light, background and sound, using whatever device available, i.e. laptop, cellphone, etc. Singing to a guide track, each participant records and uploads a video of their part, which often requires many "takes." Next the video is mixed, mastered, synced, and edited together with the rest of the ensemble. Given the difficult conditions of internet and wifi access in Cuba, putting together this large virtual choir, is a considerable feat of art and technology.


Moving Beyond Words: Responding to Racialized Injustice in the United States.

- UC-Cuba Statement by Anita Casavantes Bradford

Caribbean Transnational Synergies II

2020 UC-Cuba Graduate Student Conference II (June 05, 2020)


Click here to view the Conference Program | UC Cuba Statement by Anita Casavantes Bradford

Life in the Time of COVID-19: The Poetics and Politics of Immobility in Haiti, the Dominican Republic and Cuba

Thursday, May 21 | 4:00-5:30pm PDT | Location: Zoom Video Conferencing

This panel discussion offers short presentations and discussion about the situation of Covid 19 in Cuba, Haiti and the Dominican Republic from the perspectives of three scholars with years of experience in these contexts.

Presenters:

Nancy Burke, Professor of anthropology and public health at University of California, Merced
Dr. César Herrera, Director of CEDIMAT Centro Cardiovascular, Santo Domingo
Rodrigo Bulamah, Post-doctoral fellow at the Graduate Program of Social Sciences, Federal University of São Paulo (Unifesp), Brazil

Caribbean Transnational Synergies

2020 UC-Cuba Graduate Student Conference and Workshop

A Musical Exchange Between New Orleans And Havana

Environmental historian Reinaldo Funes (University of Havana and Yale) will be visiting the Bay Area next week

Why Does Cuba Matter?

Monday, April 1 | 2:00 - 3:30 PM | COB2 - 392

Rafael J. Betancourt, Ph.D.
Professor of Urban Economics,Colegio Universitario, San Gerónimo de La Habana

Abstract: Recent transformations in the Cuban political and economic system form part of an alternative model of development to those currently existing in the region and other parts of the Global South. What are these main changes? What model of socialism is being crafted in Cuba and what are its perspectives? What can it contribute to other countries if it succeeds?

Biography: Consultant for Sol2 Economics, a progressive consulting firm based in Berkeley, California, and The Center for Responsible Travel (CREST), a non-profit organization devoted to increasing the positive global impact of responsible tourism. Professor Betancourt is the author of Construyendo socialismo desde abajo: La contribucion de la Economía Popular y Solidaria (Editorial Caminos, La Habana, 2017), and co-author, with Martha Honey, Jannelle Wilkins and José Luis Perelló, of Por el Mar de las Antillas: 50 años de turismo de cruceros en el Caribe (Ediciones Temas, La Habana, 2018). He has numerous published articles and is a frequent speaker in Cuba and the US on economics and tourism in Cuba. Born in Cuba and educated in the United States, he currently lives in Cuba and shares his time between the two countries.

Click Here to Download Flyer

MALPASO dance company

UCI-Humanities Gateway 1002 - March 19, 2019 | 4:00 - 5:00 pm

Click Here to Download Flyer

CUBAS LIVED & IMAGINED

UC-CUBA GRADUATE CONFERENCE - February 1, 2019 | UC Berkeley

Click Here to Download Conference Program

Two major presentations by Leonardo Padura in Northern California

Screening followed by Q & A with Leonardo Padura and filmmaker Lucía López

Living and Writing in Havana explores the connection of Leonardo Padura's writing to the Cuban capital. The documentary also highlights the impressive reception his novels have in Cuba and the close relationship with readers through the iconic character Mario Conde.

When: October 4th

Time: 4:00pm

Location: McCormick Screening Room, Humanities

Preceded by a light reception 3:30 pm, Humanities Gateway Courtyard

sponsored by:
UCI School of Humanities,
School of Social Sciences and
UC-Cuba Academic Initiative

Cuban Research Institute

Steven J. Green School of International & Public Affairs

Call for Panels and Papers
Twelfth Conference on Cuban and Cuban-American Studies
Cuba and Puerto Rico: Two Wings of One Bird?
February 14–16, 2019

The Cuban Research Institute (CRI) of Florida International University continues its tradition of convening scholars and other persons interested in the study of Cuba and Cuban Americans by announcing its 12th Conference. We encourage the submission of panels and papers concentrating on any aspects of the main conference theme, but will consider all submissions relevant to the history, economy, politics, culture, society, and creative expression of Cuba and its diaspora.

In 1893, the Puerto Rican poet Lola Rodríguez de Tió (1843–1924) published her patriotic text, "To Cuba." In this poem, she wrote: "Cuba and Puerto Rico are / two wings of one bird / they receive flowers or bullets / in the same heart." Generations of Cubans and Puerto Ricans have recited these verses as an expression of the solidarity between the two peoples and their shared cultural traditions. Arawak peoples inhabited both islands before their Spanish conquest and colonization beginning in the late 15th century. Cuba and Puerto Rico remained the last Spanish colonies in the Americas until 1898, when U.S. troops invaded the islands.

Whereas Cuba attained its formal independence in 1902, Puerto Rico became an unincorporated territory of the United States. U.S. political, economic, and cultural influence was pervasive in the two Antilles during the first half of the 20th century. Puerto Rico became a U.S. Commonwealth in 1952, but the United States broke diplomatic relations with Cuba in 1961, after the triumph of the 1959 Cuban Revolution. For several decades during the Cold War, Cuba and Puerto Rico represented countermodels for economic and political development.

The Twelfth Conference on Cuban and Cuban-American Studies takes Rodríguez de Tió's famous metaphor of the "two wings of one bird" as a cue for comparative academic inquiry and public debate. Our main theme, the relations between Cuba and Puerto Rico, invites interdisciplinary approaches to the multiple, complex, and often contrasting links between the two countries, both historically and in current times. Although we welcome discussions about the recent situation and the future of Cuba and Puerto Rico, we invite a thorough retrospective examination of the social, economic, political, and cultural dimensions of the intertwined histories of the two countries. We are especially interested in assessing the contribution of the islands' diasporas to the growing "Latinization" of the United States, particularly in Florida.

Research Travel Grants

Published: March 10, 2018

The UC-CUBA Academic Initiative will award up to six $1,500 research and travel grants to University of California graduate students conducting Cuba-related research in any field. Preference will be given to first-time proposals for initial research explorations, and for completing advanced projects.

Interested applicants should submit a brief (2-page maximum) statement that outlines the project and explains how it advances their planned course of study or dissertation completion, accompanied by a budget, a short CV, and a letter evaluating the project from the applicant's adviser. Those receiving the awards will be expected to present their work at a UC-CUBA seminar in early 2019.

Please submit your proposals and any questions to hanna.garth@gmail.com

The deadline for submission of proposals: April 15, 2018. Awards will be announced by May 1, 2018.

Report on UC-CUBA Academic Initiative Trip to Santiago de Cuba and Holguín

Published: December 12-19, 2017


Office of City Curator, Santiago de Cuba

UC-CUBA Co-Director Nancy J. Burke (UC Merced) and Professor Emeritus and Executive Secretary Raul Fernandez (UC Irvine) traveled to Cuba from Dec 12-19 to conduct research and explore new avenues for scholarly and cultural collaboration. Professors Burke and Fernandez visited several academic and cultural centers in Santiago and Holguín. In Santiago they visited the Curador de la Ciudad Office1, the Emilio Bacardí Museum, the Museo de la Lucha Clandestina, the Casa de las Tradiciones, the Loyola Center, the Patio Artex, the Casa de la Trova, the Casa Velázquez, and the Casa del Caribe. At Casa del Caribe, Professors Burke and Fernandez viewed Casa's collection of Afro-Cuban religious artifacts, discussed the religious lineage of the institution and reflected on the UC graduate students, most notably UC Cuba alum and now-UCSD Assistant Professor Hana Garth, who have worked with Casa.


It has been four years since Hurricane Sandy devastated much of the city of Santiago de Cuba. Professors Burke and Fernandez made an informal assessment of current economic and social conditions in the city and evaluated potential accommodations for UC-CUBA graduate student researchers. They noted improvements in the marina area2 and toured restored areas of the city, in particular the complete refurbishment of the famed Santa Ifigenia Cemetery which now includes the Fidel Castro's burial vault. They also observed the transformation of the city's main commercial area into a pedestrian zone, and the development for tourism of the areas surrounding the majestic San Pedro de la Roca (El Morro) Castle. Finally, they assessed the conditions of emblematic sites including the city's Cathedral and historic San Juan Hill.

In order to advance his current research, Professor Fernandez met with members of the son musical ensembles La Familia Valera Miranda and la Orquesta Típica de Santiago de Cuba. Both Professors Burke and Fernandez met with Mr. Pérez Ung, a noted local radio music programmer, to discuss a range of topics related to issues of cross-cultural communications.

In Holguín Professors Burke and Fernandez visited the the University of the Arts (ISA-Filial Holguín) and Union of Writers and Artists of Cuba (UNEAC).

Professors Burke and Fernandez were welcomed at the ISA Holguín by Linguistics Professor Orlando Cedeño; they gave a short colloquium to a group of faculty and students. Cuban faculty members expressed great interest in Professor Fernandez's publications on Cuban Jazz, and the colloquium included a lively interchange about Cuban popular music, including the contemporary rock-and-roll movement in Holguín. Professors Burke and Fernandez held several additional consultations with Professor Cedeño, who educated them on the history of opera in Holguín, including current productions and training opportunities.

At the Union of Writers and Artists of Cuba (UNEAC) Burke and Fernandez met with Director Manuel Pérez González to discuss how to nurture future relations between the Union and UC Cuba.

Finally, as part of her ongoing research on health and aging in Cuba, Professor Burke met with older adults struggling with caregiving responsibilities for elderly family members, as well as several undergoing advanced stages of cancer treatment. Through ISA Professor Orlando Cedeño, Burke also established new contacts with a gastroenterologist and an endocrinologist, continuing to expand her network of key informants on the Cuban healthcare system.

Co-Director and Professor, Nancy J. Burke, UC Merced
Co-Director and Professor, Anita Casavantes Bradford, UC Irvine
Associate Director and Professor, Hanna Garth, UC San Diego
Secretary and Professor Emeritus, Raul Fernandez, UC Irvine

-----------------------------

8th UC-CUBA Graduate Student Conference at UC Irvine

UC-Cuba Statement on DACA

Published: September 8, 2017

Between 1959 and 1965, hundreds of thousands of Cubans fled political instability, repression, violence and material deprivation in their homeland. Under three consecutive US presidents, they benefited from executive actions that allowed them to live and work in the United States without immigrant visas and that provided millions of federal dollars for their resettlement, healthcare and education. In 1966 Congress acted to regularize the immigration status of these Cubans, most of whom had entered the US as "parolees" or on long-since expired tourist visas. The Cuban Adjustment Act granted these parolees and visa overstayers permanent resident status and provided them with an expedited path to US citizenship--though most of them declined to become citizens until the 1980s.

The recent decision to rescind the Deferred Action for Childhood Arrivals (DACA) executive action that has provided temporary stays of deportation and work authorization to more than 800,000 undocumented young people--whose families have similarly fled political instability, repression, violence and material deprivation in their own home nations--has been justified by some as a corrective to an unprecedented and potentially unconstitutional overreach of executive power.

Today's Cuban American community owes its origins to just such an exercise of executive power.

As scholars of Cuba and its diaspora, we are not qualified to evaluate the constitutionality of these immigration-related executive actions. We nonetheless feel compelled to point out that they are not without precedent. Moreover, the history of the now prosperous Cuban American community, which has contributed so much to the social, cultural and economic life of the US, is just one example of the ways that our nation has benefited from the careful exercise of executive power to facilitate the integration of undocumented immigrants in our society.

The more recent history of DACA-mented youths' educational and professional accomplishments, their unwavering record of community engagement and desire to assume the full responsibilities of citizenship, provide further proof of the ways that executive action on behalf of unauthorized immigrants has enriched our national life.

As they did with the 1966 Cuban Adjustment Act, it is time for Congress to pass legislation allowing the 800,000 plus DACA-mented youth--as well as their hard-working, law-abiding undocumented family members--to regularize their immigration status and to live among us without fear, as equal members of the communities to which they have already contributed so much.

Anita Casavantes Bradford,
Ph.D. Co-Director, UC Cuba Academic Initiative
Associate Professor, Chicano/Latino Studies and History
University of California Irvine

UC Office of the President
September 8, 2017